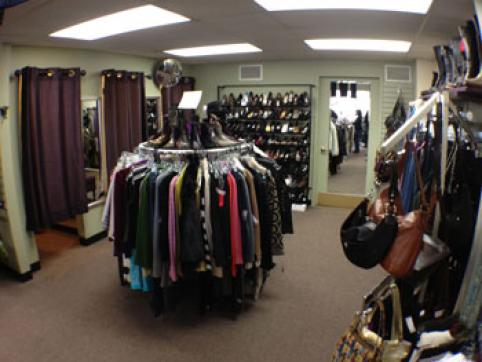 Yes, we have dressing rooms.
1)
When will you accept seasonal clothing?
We accept spring/summer consignment items February through July and fall/winter consignment items August through January.
Clothing, Shoes, and Accessories Criteria
Items must be less than 3 years old, or a timeless classic
Freshly clean, pressed and rack ready
Please bring items in on hangers. Your hangers will be returned to you at your appointment.
Prefer better store brands or designer labels
Excellent condition
TOBACCO SMOKE free
Current calendar season
Clothing sizes 0 to 16; Shoe sizes 5 to 11.
The Reclothery does NOT accept undergarments, men's clothing or maternity wear.
Top ↑
2)
What is your consignment policy?
CONSIGNMENT POLICY
FIRST CONSIGNMENT IS BY APPOINTMENT ONLY.
Minimum total consignment value is $50.00.
Limit of 25-30 items per appointment.
Your items will be displayed for 70 days.
After your required consignment period of 70-days, you will receive a check for 40% of the selling price of items sold. Consignment checks are issued at the beginning of each month.
Items will be reduced according to date to ensure they are sold; at 30 days 20%; at 50 days 30%.
More consignment info here...
Top ↑
3)
What are the driving directions to The Reclothery?
We are located on a one-way arterial so we provide these directions to help you navigate from downtown, I-90 or the north side of Spokane. From the south hill just come down either Grand Blvd. or S. Bernard where they merge to South Washington.
Driving I-90: Traveling east or west, take the Division Street exit, which travels North.
Merge immediately to the LEFT lane, turn LEFT (West) on 2nd Ave to heading toward Stevens St.
Washington Street is a one-way northbound street so you have to turn on Stevens St. South.
From Stevens Street, turn LEFT (East) on 6th Avenue.
Go through stop light at Washington and 6th. Turn immediately RIGHT into parking lot.
The Reclothery is in the large red brick United Health Services Credit Union building.
See our
Contact Us
page for our map link.
Top ↑
4)
Where do my clothes go when they get donated?
We donated to many women's charities including; Windfall at St. John's, Discovery Cancer Shop, Eleanor Chase, St. Margaret's and Union Gospel
Top ↑
5)
How do I get back to the home page?
Click or tap The Reclothery hanger logo at the top of any page. In our redesign, we got rid of the home button.
Top ↑